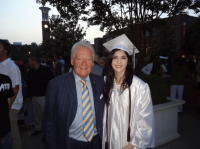 When he was a teen, Mike Spalding loved to play golf. And he was damn good, too, even finishing second once in a statewide high school tourney.
But none of his buddies swung the sticks so he had to play with the "old" guys — the ones in their 30s and 40s — on the courses in his native Bowling Green, Ky.
Spalding's favorite was a charming shoe salesman named Clarence "Clancy" Ballenger, then 35, who took a shine to the kid.
"Where ya goin' to college?" Ballenger asked the kid one day.
Spalding sighed. "I'm not going."
The teen's parents barely got by operating the Kentucky Colonel motel in town, and they couldn't afford to send their son to college.
That answer didn't sit well with Ballenger, an ex-Marine with two Purple Hearts, a salesman who always closed the deal.
Ballenger took the teen on an eight-hour road trip to his alma mater, Washington and Lee University in Virginia. The two met with the university president, and a few months later, Spalding enrolled there, with his golf buddy making arrangements to pay the bill.
It's a gift that still moves Spalding to tears six decades later.
It's a gift Spalding, an 81-year-old retired Nashville urologist, now pays forward to hundreds of Tennessee teens who might not otherwise go to college.
His Equal Chance for Education nonprofit has helped send 486 students, most of them undocumented, since he launched it eight years ago.
Spalding started the nonprofit in 2014 because a church friend's daughter couldn't get aid or even in-state tuition rates to go to college because she was undocumented.
Lots of tears
Melissa Patino Gonzalez was an 8-month-old baby when her parents moved to Bellevue from Mexico in 1996. They wanted better economic opportunities than they had in Michoacán, near Guadalajara. They chose Bellevue because Gonzalez's mom, Maria, had a brother living there.
Though she spoke Spanish in the house, Melissa Gonzalez spoke fluent English after her first year at Westmeade Elementary School. And the girl loved speaking.
"I was getting in trouble for talking too much," Gonzalez said, smiling. "In first, second and third grades, teachers would write, 'She's very smart but she talks a lot.'"
Career proficiency/interest tests indicated that Gonzalez might be a good teacher. But she didn't embrace that idea until senior year at Hillwood High School when she became a peer tutor for kids with special needs.
"I had no idea what it would look like at all. I was nervous. But I quickly grew very close to the students who were in there," she said.
"They love being social too. Being able to laugh and be happy and goofy around each other was an important thing for me. Every moment I was in that classroom, all I would think about was how I could help them, and every other problem would disappear for that one hour."
Among those problems — Gonzalez figured she'd never be able to go to college and realize her dream of becoming a special education teacher. Her family had little money, and she knew undocumented students didn't qualify for in-state tuition or for financial aid.
When she was seven, Gonzalez watched her older brother get on a plane to go back to Mexico for college for that very reason.
"There were lots of tears, and my mom cried, so that made me cry even more," she said. "It was devastating."
Gonzalez eventually stopped trying to get good grades because, well, what was the point?
That's when Spalding interceded.
Spalding went to church with the Gonzalez family at Westminster Presbyterian on West End Avenue. He asked Gonzalez's mother one day, "Where's Melissa going to college?"
"Well, she might not go to college," Maria Gonzalez said. "Too expensive."
Spalding couldn't believe it.
"You see an exceptionally bright person, and she's not going to college? A stunner."
Spalding said he marched over to Nashville State Community College to pre-pay the teen's tuition, as had been done for him decades earlier.
But the student billing clerk told Spalding it would cost $28,000 instead of $7,000 because undocumented students couldn't get in-state tuition.
Spalding raged at the clerk and stormed off.
"I was very angry," he said, sheepishly. "It was not my finest moment."
With Spalding by her side, though, Gonzalez went to Lipscomb University and secured scholarships. Spalding kicked in some money.
'It's a moral thing'
And Gonzalez was left with only $4,000 a year to pay, an amount she earned through babysitting and a part-time job at a department store.
Gonzalez, 26, finished in four years and did her student teaching at her alma mater, Hillwood High School, which later hired her full time after she graduated.
High school principal Stephen Scheaffer said he is thrilled to have a bilingual alumna for a teacher.
"We've seen her really, really flourish with our students and families," Scheaffer said.
"She works with students with the most severe disabilities, and she's been great about connecting with parents and making sure she understands the needs of the students, sometimes day to day."
In the meantime, Spalding found out about another bright undocumented teenager who wanted to be a doctor. But that teen started flipping burgers after he graduated high school.
So Spalding took him to Cumberland University in Lebanon, and the university president agreed to accept the teen as long as Spalding paid the tuition.
"I said, 'Great!'" Spalding said.
More:Advocates raise more than $100,000 to send Dreamers to college
"Then my wife, the CFO of the family, said, 'You're retired with no income and two kids in college. Do you think maybe since there are 8,000 of these kids that you should get someone to help you with this?"
Spalding contacted a lawyer and set up the Equal Chance for Education in 2014. The agency has signed up 20 Tennessee colleges and universities — including Fisk, Lipscomb and Trevecca Nazarene universities — to keep tuition to $10,500 a year for its ECE students.
And ECE pays 60% of the bill for the students it accepts. The agency considers academic achievement, career goals and financial need when evaluating students.
So far, 132 students have graduated with help from Spalding's nonprofit, which has an annual budget around $2.5 million.
He is excited and emotional about being able to provide the same shot at college that his mentor gave him decades ago.
"This to me is not a political thing at all, it's a moral thing," Spalding said.
His benefactor, Clancy Ballenger, died in his native Spartanburg, S.C., in 2003, never knowing Spalding would pay forward the shoe salesman's kindness.
The Tennessean found and contacted one of Ballenger's five children this week.
His middle child, Elizabeth "Libbo" Ballenger Wise, said she was very moved to find out her dad's generosity inspired an agency that has helped send more than 400 teens to college.
"It's so beautiful it makes me want to weep," Wise, 68, said on the phone from her home in Spartanburg. "I can't tell you what this means to me. I can't wait to tell my sister.
"To my father, education was everything."
Reach Brad Schmitt at brad@tennessean.com or 615-259-8384 or on Twitter @bradschmitt.
Applications are due March 15
What: The next round of partial scholarships from Equal Chance for Education allowing Tennessee students to go to college for $4,000 a year
Participating schools: Lipscomb University (Nashville), Trevecca Nazarene University (Nashville), Fisk University (Nashville), Cumberland University (Lebanon), University of Memphis, Christian Brothers University (Memphis), Milligan College (Elizabethton), East Tennessee State University (Johnson City), Carson Newman (Jefferson City), Maryville College, Tennessee Wesleyan University Chattanooga, Southern Adventist College (Collegedale) and Sewanee: The University of the South.
Criteria: Academic achievement, attainable career goals and financial need, to be considered without regard to citizenship status
To apply: Visit equalchanceforeducation.org
Next deadline: March 15, 2022
To donate: Visit equalchanceforeducation.org